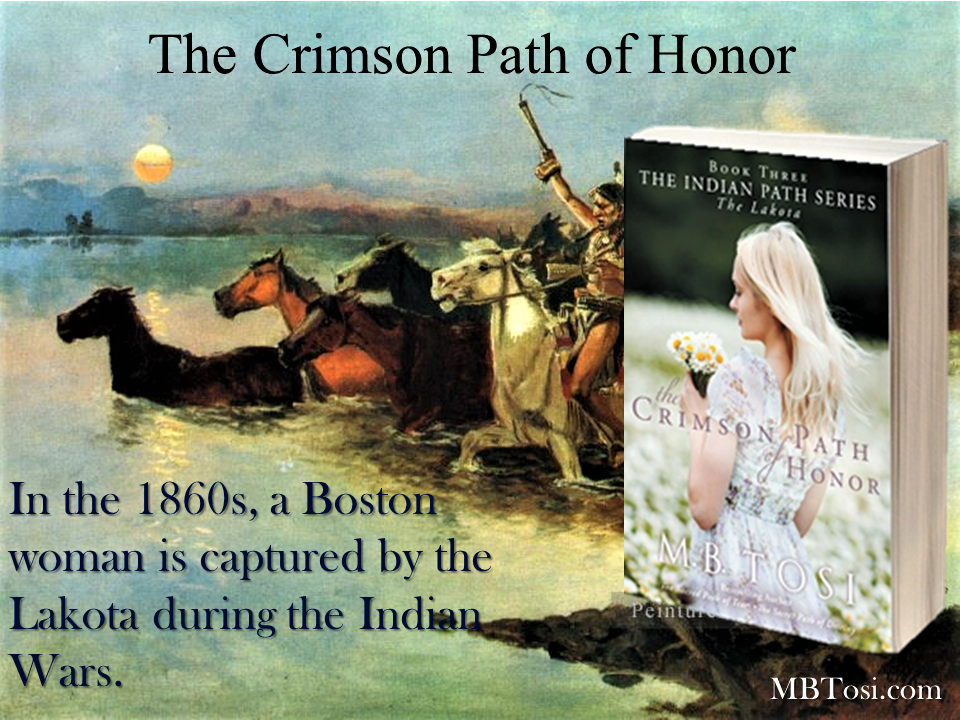 The Crimson Path of Honor 
Review from Jim Langford, Ph.D., Director Emeritus of University of Notre Dame Press, bestselling author of The Spirit of Notre Dame and Quotable Notre Dame
I have spent most of my life in book publishing, as an author, executive editor and publisher. I am very impressed by the works of M.B. Tosi; she does very careful research so that she can tell her stories and frame her fiction in the context of Native American history. Her novels focus on ethical and human issues in a way that is captivating because they mirror real life. I hope her audience continues to grow. Good writing needs recognition these days.
Review from John G. Agno, Executive and Business Coach, author of Develop Leadership Skills: A Reference Guide
The Crimson Path of Honor takes us back to the 1860s where a spoiled young woman raised in Boston discovers her fearless courage and life signature through learning the ways of a squaw while being known as Morning Star.  A white woman assimilating within a Native American culture, while the destruction of the Indian way of life was happening across the continent, is a theme of The Indian Path Series and is of interest to many Americans. I especially appreciate these cultural-clashing stories that M. B. Tosi weaves.
Review from Margaret Paul, Ph.D., bestselling co-author of Do I Have To Give Up Me To Be Loved By You, Healing Your Aloneness, and co-creator of Inner Bonding®.
The Crimson Path of Honor is a very compelling, satisfying and inspiring book. I couldn't put it down! It's one of those books that made me feel sad when I finished it - I didn't want to leave the wonderful characters. 
Review from Dr. Joe Rubino, bestselling author of The Self-Esteem Book
Fast paced, hard to put down, well-written--these are all descriptions of author M.B. Tosi's latest addition to The Indian Path Series. If you like historical fiction about a formative period in our nation's history, the Indian Wars, The Crimson Path of Honor is the book for you. M.B. Tosi's vivid images of tribal life and conflict make history come alive as a young woman is captured and consequently adopted by the Lakota. I highly recommend this book.            
Review from Michelle Cruz-Rosado, co-author of Pursuing Your Destiny: How to Overcome Adversity and Achieve Your Dreams
This story leads the reader through the happiness of life's experiences and shows how through adversity there is awareness and triumph. Through Ms. Tosi's words are unforgettable occurrences of hope and love. A true page-turner!
Review from Dr. Deb Hirschhorn, bestselling author of The Healing Is Mutual: Marriage Empowerment Tools to Rebuild Trust and Respect--Together
In The Crimson Path of Honor by M. B. Tosi, I found a heroine to admire for the persistent strength that she showed no matter how unbelievably challenging she found life. Frankly, I could never have dreamed up such a strong character myself although my own message is always to be assertive of one's rights. The heroine's character is also noble, kind, and incredibly intelligent. I just really loved reading the dialogue that Tosi created between her and her protagonist, the handsome Indian Chief Golden Eagle. I recommend this book for anyone needing a lesson in facing the difficulties of life with grace, faith, and focus.
Review from Sheryl Cox, bestselling author of Beings & Doings
Once again, M.B. Tosi has created a character whose shoes you step into as you read. In this creative story woven into the history of the 1800s in Indian Territory, you leave the pampered life you've always known, expecting to create it anew in your own way. In the process of escaping a pre-arranged marriage with a man you don't love, your stagecoach is attacked by a rebel band of Natives and you land in the arms of a well decorated Indian Chief with whom you fall in love.

You learn the language and way of life. You learn ways to fit in. You teach others your native tongue and beliefs. You stand your ground and maintain your honor at all costs, even at the threat of death. The result is the awakening of peace in a previously warring tribe and the unification of that tribe with the white man.

When you sit down to read this page-turner, plan to stay put 'til the very last page of The Crimson Path of Honor! I believe you will love this book every bit as much as I did, especially if you loved the first two books in The Indian Path Series!!
Review from Kathy Perry, bestselling co-author of Stepping Stones to Success
You know when you pick up a book and your plan is just to read a little bit before going to bed, well I had that plan with The Crimson Path of Honor, but couldn't put it down. It is so well written that it takes you on the journey as it unfolds. I felt like I was watching a movie as I was reading it, because of the rich descriptions of everything. I felt all the emotions as they emerged on each page. It's been a long time since a book kept me so engrossed and engaged while reading it. I highly recommend it.
Review from DaKara Kies, Feng Shui for the Mind, Clearing Clutter from the inside out!
Are you ready to take a journey into life changing adventures? The Crimson Path of Honor is a must read! The story weaves the reader from a life of privilege to a life of new ways of being, love and challenges. This masterpiece engages the reader on many levels.
Page by page, I found myself delving deeper in to the lives of the characters and the struggles of daily life, the joy, love and honor of being true to themselves.
Review from Linda Graham, President and CEO of Infinitechange.com, author of Procrastinating? Train your brain to STOP!
I couldn't put this book down, beautifully written, wonderfully descriptive and each chapter more exciting than the last!  M.B. Tosi is truly brilliant! ...a must read!
Review from Regina M. Joseph, author of The Alterran Legacy Series
Luci, a privileged, physician's daughter living in Boston, rebels against her wealthy family's traditional plans for her life. At her debutant ball, she is captivated by an Army lieutenant who is stationed in the exotic West and engaged in peace negotiations with the Indian tribes. She eagerly accepts his offer to assist her in obtaining a teaching position in the Western territory. As her stagecoach travels through the Dakota lands, her life is forever changed. Her fellow travelers are killed by a band of Lakota Indians led by Golden Eagle, the chief's son. Golden Eagle, being fascinated by her beauty and blond hair, brings her back to his village, nestled in the mountains. As she learns the rules of Indian life and becomes close to the complex and handsome Golden Eagle, she must struggle to maintain her honor.
M.B. Tosi does a masterful job of depicting the daily life of one of the gentler tribes, as well as the dilemmas they confronted as their ancient traditions were overturned by the tide of history. Her wonderful characters easily draw in the reader and immerse you in their struggles for survival.
Review from Julie K. Rubini, author of Eye to Eye: Sports Journalist Christine Brennan, Missing Millie Benson, Virginia Hamilton: America's Storyteller, Hidden Ohio and founder of Claire's Day, Inc.
Author M.B. Tosi once again writes a beautiful reflection of life and love amongst the Native Americans in the mid-1800s. From the intense opening sequence through to the conclusion, The Crimson Path of Honor sheds light on the beliefs, customs and longings of a band of Lakota Indians. Readers will delight in the bravery of protagonist Morning Star, the world that she is brought into and that which she left that beckons to her. Well researched and written, Ms. Tosi offers insights and perspectives into a time that was devastating to the Native Americans. I highly recommend this book to anyone that enjoys historical fiction and a great love story!
Review from Melanie Oyster
This fast-paced story of courage and love rides on rich layers of history, faith, and the power of friendship. Everyday details of Native American life, like the captured white woman getting a lesson on making a better stew, brought the story to life for me - and made me ache for the wonderful characters and their way of life, profoundly affected by war and change. But I especially liked the characters' passion and humor. Soaring declarations of love and honor alternated with scenes packed full of humor. Will this heroine, who was too independent to fit into the role of Boston debutante, ever fit into the "eyes-downcast" role of a Lakota squaw? Even for a handsome young chief? You will enjoy reading the book to find the solution to this romance!
Review from Bonnie Diller
M.B. Tosi's descriptions of the characters and their lives in her writings are wonderful. The history that goes into her books is amazing. The Crimson Path of Honor contains both. If you like history and some wonderful fiction this is the book for you.
Review from Bethany
This is my second book by M. B. Tosi and both I enjoyed but this one really grabbed me. The main character, Morning Star was so entertaining and unpredictable. I loved the joy and faith she brought to the tribe. No spoilers here but I loved the book and would highly recommend it.