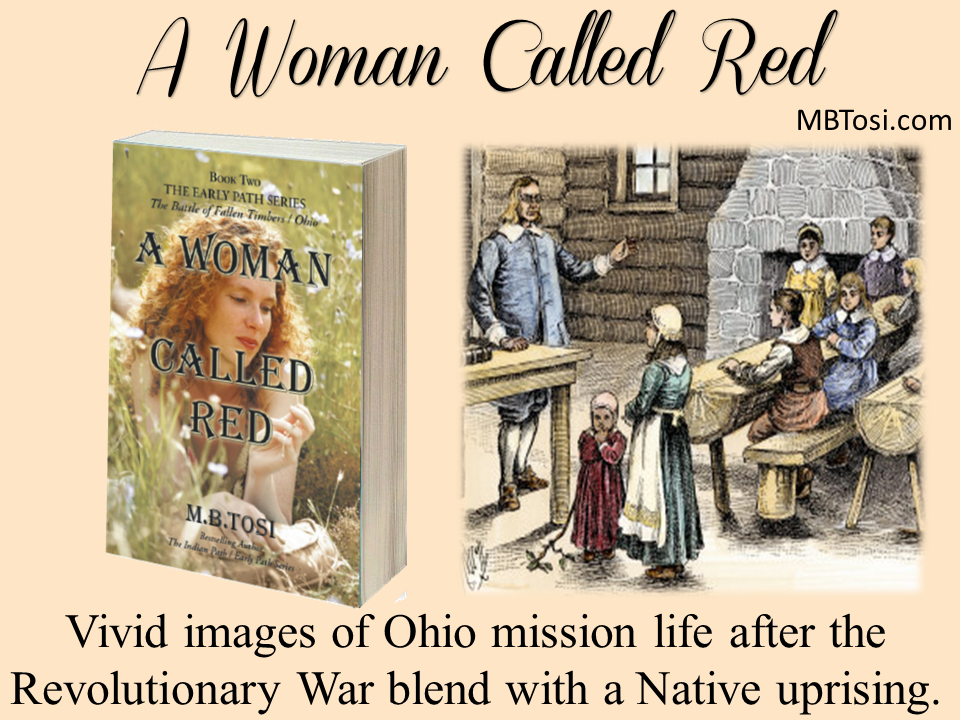 A Woman Called Red 
Review from Jim Langford, Director Emeritus of University of Notre Dame Press, bestselling author of The Spirit of Notre Dame and Quotable Notre Dame
M.B. Tosi's new series continues with A Woman Called Red, an exciting post-Revolutionary War story about Ohio & the Battle of Fallen Timers. As with all of her books, this one is alive with adventure, genuine history, difficult decisions and faith. Enjoy!

Review from Kathy Perry, bestselling co-author of Stepping Stones to Success
I loved reading A Woman Called Red from The Early Path Series. From the moment I started reading it, I was captivated. M.B. Tosi never disappoints, her books are filled with history, intrigue and romance. As she tells the story, we get to feel what it was like for the Native American Indians as well as the Early Settlers. We get to experience the love, courage and faith of a young woman during the difficult times of not only a devastating injury but the problems they faced as Early Settlers expanding into the Native American Territory in Ohio. I love reading M.B. Tosi novels, she brings historical fiction to life and you feel like you are there experiencing everything right along with her characters. You won't be disappointed with this book – another masterpiece from M.B. Tosi! 
Review from Margaret Paul, Ph.D., bestselling co-author of Do I Have To Give Up Me To Be Loved By You and Healing Your Aloneness and co-creator of Inner Bonding®
Like M.B. Tosi's other books, I couldn't put this one down. She is a wonderful storyteller, weaving together romance, compelling characters, suspense, and Native American history. I love the ending! You will thoroughly enjoy reading A Woman Called Red.
Review from C
One of my favorites from author M.B. Tosi! As usual, all of her characters come to life in a beautifully written storyline. Once you start reading, you won't want to put down this book as you follow the main character, Red, through her journey of love and faith, while dealing with the realities of the time period. There are plenty of humorous interactions as strong-willed Red interacts with the men of her life that make her endearing to the reader and add to the fun of reading this story. As with other books in the author's series, the well-researched historical context enriches the storyline and you finish the book feeling like you have stepped back in time for the brief period it takes to read!