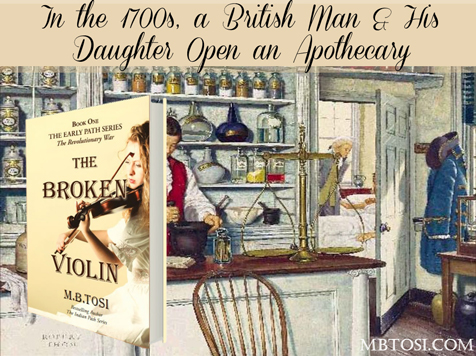 The Broken Violin 
Review from Jim Langford, Director Emeritus of University of Notre Dame Press, bestselling author of The Spirit of Notre Dame and Quotable Notre Dame
M.B. Tosi begins a new series with The Broken Violin, an exciting story of the Revolutionary War. As with all of her books, this one is alive with adventure, genuine history, difficult decisions and faith. Enjoy! 
Review from Kathy Perry, bestselling co-author of Stepping Stones to Success
I love to read a book that is so well written, I feel like I'm watching it on the big screen. M.B. Tosi takes you on a journey through our early American History and captures the essence of life during that period. The Broken Violin is a beautiful story that weaves the reader through the hard realities of the Revolutionary War and one woman's journey through much change, grief and finally, love. I was captivated by the story from the first paragraph to the last and couldn't put it down until I finished the book. I recently was on vacation in the Hudson Valley of New York and could easily picture the small towns along the river that were discussed in the book. Once again, M.B. Tosi has written a masterpiece, I highly recommend it - she makes history come alive! I am thrilled she is starting a new series - The Early Path Series is sure to delight.
Review from Margaret Paul, Ph.D., bestselling co-author of Do I Have To Give Up Me To Be Loved By You and Healing Your Aloneness and co-creator of Inner Bonding®
M.B. Tosi has written another captivating book. I love how she weaves history into the stories and I learn things I didn't know. She does a wonderful job of depicting the vast difference between true kindness and compassion, versus greed and narcissism. Her descriptions of Abigail and Samuel present wonderful role models of the combination of strength, kindness and devotion to what it really means to love, as well as to listening to intuition and to the voice of Spirit. In sharp contrast is Mitch's darkness, whose greed and narcissism cut him off from his heart and soul. His God is money and we experience the huge difference between love being the guiding light, or control and greed being the primary motivation. An excellent book to teach true values.
Review from Pamela T. Kile
I used to think history was just a bunch of dates and names I couldn't even pronounce. I had no interest in any of it. M.B. Tosi's Indian Path Series captivated me and sparked an interest in my own American Indian heritage. The detail with which she presented the culture of the American Indian in each of those books kept me eager for more. Once again, Tosi has captivated me. Her newest book, The Broken Violin, is set during Revolutionary War times. Now I am struck by the resilience, faith, and courage of my European ancestors. M.B. Tosi has made history come alive for me! I love how Tosi weaves historical facts together with the plight of The Broken Violin's protagonist, Abigail Bosworth. Bosworth is transplanted to a new country on the verge of war where she is left virtually all alone in a new town but rises to meet the many challenges she faces along the way. With the strength of her faith and a commitment to doing the right thing, Abigail Bosworth makes an amazing transformation from a meek, dependent, and lonely woman into a confident, resilient, and independent woman. The Broken Violin is a beautiful story with much detail about how the people lived in the1770s. It turns out I love history now. What a surprise!
Review from Gerri Bowen, author of Love in Gettis Series
This is such a good book on so many levels. In the Introduction, we first meet Abigail Bosworth in a jail cell, the first of November 1778, where she waits to be hung for treason in two weeks' time. She believes in her innocence to the charge, and prays to God for divine help.
The book then goes back to tell about her parents. Her father was an apothecary, her mother an heiress. They come to the American Colonies from England and settled in Philadelphia. There Abigail was born, their only child. She struggled with Asthma and was of slight build, but proficient at the piano. It was there that Abigail saw the violin in a shop window and asked to see it, and it was bought for her. Her lessons on the violin began.
Because her parents were from England, her father decided that because of the political situation, it would be safer for the family to move to New York state to live. Abigail grows older, helps her father in the apothecary store he had built in the small village, and travels with him when he sees other patients. But she has no close friends. She knows she's different, small even for a woman. She develops an inner dialog with God, following the beliefs of her parents. She knows she's considered the village spinster, but it doesn't bother her. She's content with how things are.
Then things change for Abigail, big time. How she copes, and the choices she makes made perfect sense to me considering her faith, how she lived and what she believed. I tell no more other than to say I couldn't wait to get back to this book and see what would happen next. I highly recommend this book.
Review from Arleen Alleman, author of The Darcy Farthing Series and co-author of Sometimes Naughty - Always Loved Mary and Her Big Cat Brain
Tosi has written an extremely well-researched story of love, hardship, and a lesser-known aspect of the American Revolutionary War. The collaborative relationship between Native American tribes and the British underpins this touching and uplifting tale of devotion between Abigail, a frail but intelligent and talented spinster, and Samuel, a half-Native American fighting the Colonists. After Abigail's lonely life suffers multiple losses, she saves Samuel's life and propels the two of them on a journey filled with ups and downs, including a hateful antagonist, Mitch, who is bent on destroying Abigail. This is a realistic and satisfying read with plenty of informative historical information.
Review from Diane Shute, author of After Midnight and Midnight Crossing
A surprising love story by a master - the extent of Tosi's research into events shaping our country is compelling. A must read, if not for its tender romance, then for a chance to slip backward in time to relive the birth of our country.
Review from Veronica Cline Barton, author of The Crown for Castlewood Manor: My American Almost-Royal Cousin Series and Deadly Receptions: The Debut of Castlewood Manor
Author M. B. Tosi's tale takes you back into the world of the Revolutionary War to experience the despair, hope and love of main character Abigail. I loved the historical details and perspective woven into the story. The survival of the human spirit despite life's tragedies is an inspiration. Moving read, highly recommended! 
Review from Mary Ann Oess
This writing of M.B. Tosi puts the reader right in the middle of the action! The weaving of personal lives through the remnants of history is very enjoyable and keeps the reader wanting to know how the characters will forge ahead through the unsettling situations. An interesting twist is the way M.B. Tosi brings the reader into the characters' unspoken thoughts, you are actually engaged in their inner dialogue, as well as what is spoken. Neither of which are always predictable to the reader's mind!
Review from L. Heitz, Ph.D.
In her first book in The Early Path Series, set in the Revolutionary War period, the author leads us on an emotional roller coaster between hope and love on the one hand and despair and tragedy on the other. The building tension of the pursuit of the heroine makes this a book you just cannot put down until finished! In the end, the story leaves you very satisfied and eagerly awaiting the next one.
Review from Ember
A beautiful story, researched, written with rare passion. Moving portrayal of courage, pioneer spirit and eternal quest for true love. It's a book that must not be rushed. Read for quiet contemplation. Tosi will completely enthrall you.
Review from Jeane B.
The Broken Violin is a touching love story set in the l7th century during the Revolutionary War. It's about loss, heartbreak and vulnerability but in the end brings us home to hope, trust and finally love. A delightful story and a five-star read for M.B. Tosi fans.
Review from Ellen Karolyi
This is an excellent book mixing history and romance with drama that will keep you engaged until the very end.
Review from Wendy Holub
Thoroughly enjoyed reading this book!