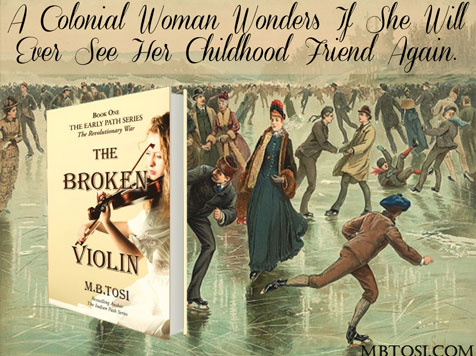 The Early Path Series
Since my first book was published in 2011, my journey has been so amazing, and that is because of you. Your support has been wonderful for the five books of The Indian Path Series, making them all bestsellers on Amazon. I've enjoyed getting to know many of you and working with book clubs and women's groups. I especially appreciate the kind reviews you have written on Amazon. There is no greater compliment for an author than a reader taking the time to write a review.
Now a new adventure starts! The Broken Violin is the first book in The Early Path Series. It is the story of a courageous woman doing the right thing and suffering the consequences for her actions during the Revolutionary War in the 1770s. In spite of the odds against her survival, she not only finds safe harbor but is surprised by love.
Unlike its sister series, The Indian Path Series (about the Indian Wars in the late 1800s), The Early Path Series features an earlier time period from the Revolutionary War in the late 1700s through the early 1800s. In both series, fictional characters weave through the true historical events of the times, and the books can be read in any order as each book stands alone with new characters.
The time period from the 1500s through the late 1700s had a wealth of literary writers such as Francis Bacon, John Dryden, Samuel Johnson, and Alexander Pope to name a few. I have tried to incorporate some of their writings at the beginning of each chapter of The Broken Violin as it gives a flavor of how people in colonial times thought and reasoned. Any dialog between characters reflects the Old English of the time period though the narrative is in plain English of our day.
Both of my historical romance series have a common inspirational theme. Although the characters live in a different time period, they still search for life's purpose and a path of peace, love, courage, and faith in times of trouble and danger just as we do today. In fact, the books give credence to Ecclesiastes 1:9 in the Bible. That which has been is what will be, That which is done is what will be done, And there is nothing new under the sun.