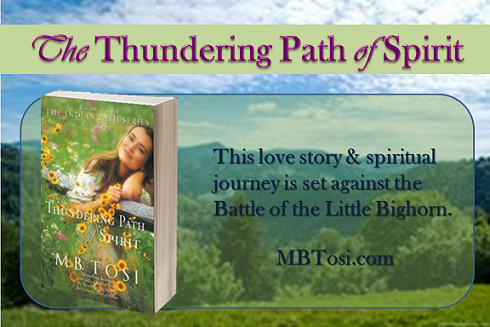 The Thundering Path of Spirit 
Review from Kathy Perry, bestselling co-author of Stepping Stones to Success
I love a book that can give me the experience of being there and keep me spellbound as the story unfolds. That is exactly what M.B. Tosi does with her latest book, The Thundering Path of Spirit. I couldn't put it down. I was so drawn into the story, that I felt the emotional upheavals throughout. It's one thing to read a book, and quite another to experience it. Thank you M.B. Tosi for the experience! I highly recommend the entire The Indian Path Series, you won't be disappointed!
Review from John G. Agno, Executive and Business Coach, co-author of When Doing It All Won't Work
In The Thundering Path of Spirit, M. B. Tosi has, once again, delivered to readers the tears of joy and sorrow they expect in a 19th Century North American story. The story brings to life the cultural and spiritual conflicts between bronze-colored Native Americans and western-moving palefaced Europeans. The two main characters in this love story had very different assumptions and beliefs due to their different cultural memes which prevented a smooth assimilation. Yet, through extensive soul-searching Amanda and her Native American lover take very different paths that lead to a joint spiritual and cultural discovery. We Americans today know little of the doings of the people of generations who lived their lives in earlier times. This wonderful book helps us to recognize the hardships of the isolated and primitive life of our forbearers as they relied on their traditional spirituality to surmount dangers while attempting to build a common destiny.
Review from Stephen J. Brennan, PhD, author of 6 Psychological Factors for Success
The Thundering Path of Spirit may be the best of all. The unusual love story, set against the Battle of the Little Bighorn, grabs your attention immediately, takes you through the unexpected twists and turns, and makes you feel a part of history. Fans of the series will love it!