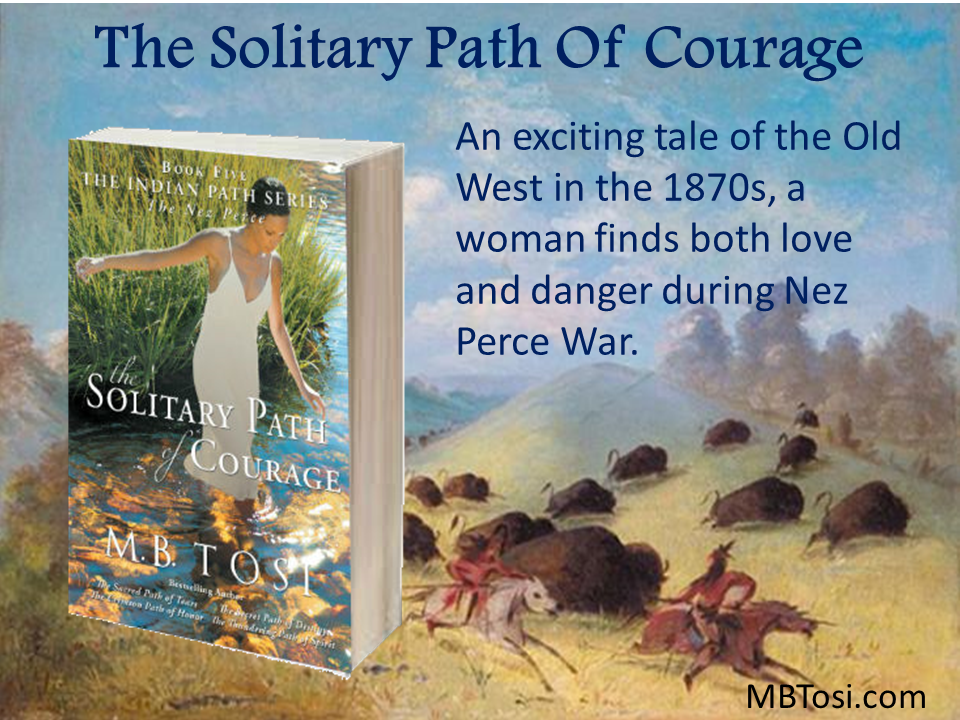 The Solitary Path of Courage 
Review from Jim Langford, Ph.D., Director Emeritus of University of Notre Dame Press, bestselling author of The Spirit of Notre Dame and Quotable Notre Dame
M.B. Tosi continues her series of wonderful books with The Solitary Path of Courage, an exciting story of the Old West. As with all of her books, this one is alive with adventure, genuine history, difficult decisions, and faith. It is a book to enjoy. 
Review from Dr. Joe Rubino, bestselling author of The Self-Esteem Book
Author M.B. Tosi has scored another success with her fifth book, The Solitary Path of Courage. In her unique Indian Path series, which combines well-researched events in the Indian Wars with inspirational fictional stories about pioneers making their way in the Old West, history comes alive with realistic characters living their lives in dangerous times and war. As her stepbrothers become involved in the struggles of the Nez Perce Indians, a young woman courageously seeks her path as a journalist in a man's world. Their lives become entwined as the Nez Perce flee their ancestral lands, and the fast-moving adventure reads like an action movie. I highly recommend this book. You won't be disappointed!
Review from Regina M. Joseph, author of The Alterran Legacy Series
In The Solitary Path of Courage, M.B. Tosi continues her insightful tales of western life in the late 1800s. Her heroines are strong and resourceful, yet considerate and caring -- the kind of person you'd like to know, and the kind of Americans that you can imagine actually molded the civilization of the Western United States.

Samantha O'Brien is orphaned on a wagon train nearing the Idaho territory. The wagon master drops her at the home of a missionary family, who have children near her own teen-age years. It's a time of upheaval. White settlers are encroaching on Indian lands, especially those attracted by news of new veins of gold. Traditionally, the Nez Perce Indians have been peaceful and willing to move to avoid conflict, but they are being backed into a corner.

After Samantha's mission home is attacked by rogue warriors, who kill her adoptive mother and kidnap her step-brother, family life begins to unravel. Finding it unbearable, Samantha disguises herself as a male and leaves for nearby Lewiston. Continuing to impersonate a male, she lands a job as a newspaper reporter, and she makes a name for herself as an investigative journalist, including as a chronicler of Indian life, tribal conflicts, and pursuit by the army. Being well researched, the reader is not only entertained, but educated as well. It's a riveting tale by a masterful storyteller that will leave you unable to put it down.
Review from Kathy Perry, bestselling co-author of Stepping Stones to Success
I was so excited to hear that Author M.B. Tosi had released a new book, The Solitary Path of Courage, her fifth book in The Indian Path Series. She has the wonderful ability to immerse you into the story as it unfolds, so that you are so engaged with the characters and the story that you don't want to stop reading. I loved reading it and learning about the history of the Nez Perce War and the tribe's final flight to Canada. M.B. Tosi did an excellent job of painting the picture and sharing the story from the Indian perspective - it's pretty exciting! I highly recommend reading this book and the whole Indian Path series by M.B. Tosi - they are great books and sure to delight you.
Review from Dr. J.H. Beschenbossel, author of My Buddy Mr. Squash
M.B. Tosi's new book, The Solitary Path of Courage, is better than a movie. She is one of those authors that can bring words to life and make you feel that you are living in the story, seeing and feeling the sights, sounds, and emotions of the characters. It is more intense than seeing a movie, which can sometimes move so fast as to cause you to miss what the writer thought was important. In the movie you might become distracted by something in the corner of the screen missing out on the important but subtle point the author was trying to convey. In other words a good book is, or can be, more alive and more real than a good movie, and transmit the authors thoughts much more effectively than a mere film. Upon reading all five of M.B. Tosi's books, I can happily recommend all of them and look forward to more from this fine author.  
Review from John G. Agno, Executive and Business Coach, author of Develop Leadership Skills: A Reference Guide
Author M.B. Tosi has driven me to tears once again as I read her new Book Five of The Indian Path Series. In Tosi's well-crafted book, The Solitary Path of Courage, a young girl grows into a courageous woman as she hides her feminine strength by masquerading as a male reporter.
Because the Native Americans were jealous of trespassers in their country, no permanent settlers were permitted by them prior to purchases of the land by early settlers or ceded to the government. The American Indian people's land continued to shrink as white settlers moved west, while they had always made alliances, intermarried, and borrowed ideas and technology from other people.
Beginning in the mid-1600s in the East and continuing to the western wilderness, white settlers took Native American land that didn't end in the 1800s as Tosi explains in The Solitary Path of Courage. As The New York Times summed up the Nez Perce War with the government military making way for white settlements, 'On our part, the war was in its origin and motive nothing short of a gigantic blunder and a crime.'
In the words of editor Ralph Dixey of Teyope in Fort Hall, Idaho, which were published in 1939, 'Friends, we are all Indians no matter how white or dark you are. It does not make any difference where you are, what you are doing, or how much money you are making. We are all Indians...' I highly recommend that we Americans read The Solitary Path of Courage.
Review from Arleen Alleman, author of The Darcy Farthing Series and co-author of Sometimes Naughty - Always Loved Mary and Her Big Cat Brain

M.B. Tosi has written yet another heartwarming informative adventure. In The Solitary Path of Courage, the reader meets Samantha (Sam) Obrien, an orphaned pioneer left with a missionary family along the Oregon Trail. Her unique family situation caused her father to disguise her as a boy and once she leaves her adoptive family behind, she reverts to that identity in order to find work as a newspaper reporter. The story provides balance in perspectives of settlers and Indians during the Nez Perce War in the Idaho Territory in the late 1800s.
It's a unique story line of a young girl making her way in the world disguised as a boy in a male profession. She is independent beyond her time and relies on faith to guide her through relationships with her stepbrothers, both of whom have a romantic interest in her, and through a series of deceptions and dangerous misadventures. When she tries to rescue her stepsister from an immoral life, she finds herself caught in the middle of the Indians and settlers who are at war, as well as the new romantic feelings she is experiencing. This is a great adventure with a learning opportunity vis a vis the Old West and tribal life.
Review from C.L. Hunter, author of Your Soul Was Made for Mine

I don't read this kind of book very often, so when I do, I'm grateful that it turns out to be a good read. I fell for Sam (Samantha) right away. She is likable and strong and courageous. I think I would have been a lot like Sam if I were born it that time era. It is a story of loss, hope and history which leads you on a path to find out the truth. I think I knew from the beginning where Sam was headed, but it was a fun and easy read that made the journey of discovery hard to put down...Great job M.B. Tosi...A faithful follower on here and Twitter.
Review from Margaret Paul, Ph.D., bestselling co-author of Do I Have To Give Up Me To Be Loved By You?, Healing Your Aloneness, and co-creator of Inner Bonding®
Another wonderful book by M.B. Tosi. I love the role modeling for girls and women. Samantha is feisty, courageous, smart, spiritual and very loving. She listens to her own feelings, regardless of what others think. She is deeply guided by God. I love the history we experience regarding Native Americans. The book is compelling reading.
Review from Tammie S.
I do have to say this is one of my favorite romances that I have read in a long time. It is set in the Idaho area. I have been there so, I could picture it well. Sam, a head strong woman, has grown up with a single dad. In the 1870s, Sam travels to rescue her stepsister in Lewiston. She gets a job at the local newspaper and is determined to make it. She gets caught in the middle of the Nez Perce War and also caught between the love of two brothers.
Review from Elaine Cherry
M.B. Tosi did it again. She wrote another book to keep readers up all night. The Solitary Path of Courage is a story filled with exciting adventures of settlers during the Gold Rush, war between the Indians and U.S. Army and of course a wonderful love story. Be prepared - this book has a marvelous storyline, you won't be disappointed. Thanks Mary for another great read.
Review from Stephen J. Brennan, Ph.D., author of 6 Psychological Factors for Success
The fifth book in The Indian Path Series, The Solitary Path of Courage, is one of those books ripe with action. In the first scene, a reader is thrust into an old barn during an Indian raid along with a young woman orphaned on the Oregon Trail and dumped at a mission. Soon the woman runs off to the gold rush town of Lewiston in the Idaho Territory to rescue her runaway stepsister. Disguised as a man, she finds employment as a journalist and eventually reunites with her stepbrothers during the Nez Perce War and flight from their ancestral lands. If you like adventure along with history coming alive in the Old West, this is the book for you.
Review from L. Heitz, Ph.D.
In her latest book in The Indian Path Series, The Solitary Path of Courage, the author has reached yet another level of depth and complexity. The fast-paced tempo and intriguing story-line is sure to keep you on the edge of your seat until the very end!
Review from Nelda G. Mold
A wonderful story of a young girl whose faith and courage sustain her through realistic adventures in the old west of the 1870's. A delightful read!
  About Solitary Path        Preview Solitary Path