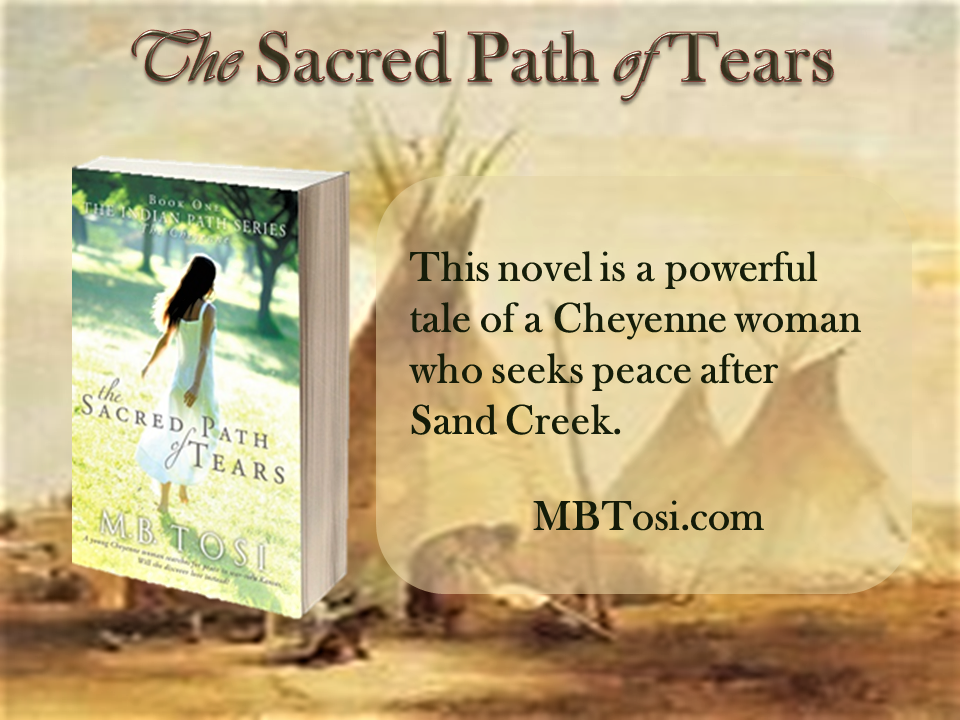 The Sacred Path of Tears
The Sacred Path of Tears is a journal written by a young Cheyenne woman, nicknamed Mokee, during the Indian Wars in Kansas in the late 1860s. When we first meet Mokee, she is a fourteen-year-old with a quirky, self-deprecating sense of humor. She is a young innocent caught in the middle of an escalating war, which seems to have no resolution. Thrown into circumstances beyond her control, she quickly matures into a young woman searching for a path of peace in her war-torn world.
After Mokee and her companion observe the Sand Creek Massacre in Colorado, they warn the other Cheyenne camps, which are wintering along the Smoky Hill River in Kansas. After their mission is done, the two friends take cover in a barn near Salina, Kansas, where they are discovered and held at gunpoint by a widow and her two sons. Mokee, with her smattering of English expressions and infectious smile, talks their way out of trouble and into a meal in the farmhouse.
Hating war, Mokee, because of her lighter skin coloring, temporarily finds a safe haven with the widow's family, and she finds a mentor in the refined and well-educated widow. Her companion, however, can't accept the help of a woman he stubbornly calls the enemy, and he leaves to seek revenge for the deaths at Sand Creek. Unknown to Mokee, he joins a roving band of Cheyenne Dog Soldiers. As her life unfolds, Mokee finds herself torn between two cultures at war and the two men she loves, one a white settler and the other, her Cheyenne companion she always dreamed of marrying.
The Sacred Path of Tears is the first book in a new series called The Indian Path Series. Each book in the historical romance series will focus on a different Native American tribe during the Indian Wars in the late 1800s, and the lives of fictional characters will be woven into the true events of the wars. The theme of The Indian Path Series is the commonality of the human experience and how people in all centuries deal with the age-old struggle to find their life's purpose and follow a path of peace, courage, and love in spite of the troubled times in which they live.