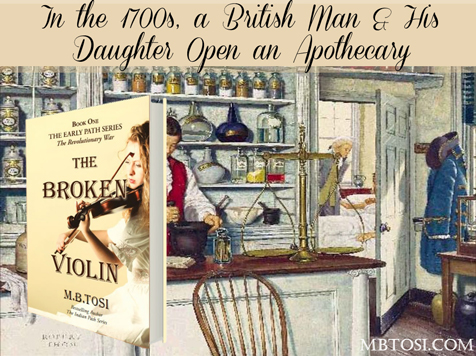 The Broken Violin 
Review from Jim Langford, Director Emeritus of University of Notre Dame Press, bestselling author of The Spirit of Notre Dame and Quotable Notre Dame
"M.B. Tosi begins a new series with The Broken Violin, an exciting story of the Revolutionary War. As with all of her books, this one is alive with adventure, genuine history, difficult decisions and faith. Enjoy!" 
Review from Kathy Perry, bestselling co-author of Stepping Stones to Success
"I love to read a book that is so well written, I feel like I'm watching it on the big screen. M.B. Tosi takes you on a journey through our early American History and captures the essence of life during that period. The Broken Violin is a beautiful story that weaves the reader through the hard realities of the Revolutionary War and one woman's journey through much change, grief and finally, love. I was captivated by the story from the first paragraph to the last and couldn't put it down until I finished the book. I recently was on vacation in the Hudson Valley of New York and could easily picture the small towns along the river that were discussed in the book. Once again, M.B. Tosi has written a masterpiece, I highly recommend it - she makes history come alive! I am thrilled she is starting a new series - The Early Path Series is sure to delight."
Review from Margaret Paul, Ph.D., bestselling co-author of Do I Have To Give Up Me To Be Loved By You and Healing Your Aloneness and co-creator of Inner Bonding®
"M.B.Tosi has written another captivating book. I love how she weaves history into the stories and I learn things I didn't know. She does a wonderful job of depicting the vast difference between true kindness and compassion, versus greed and narcissism. Her descriptions of Abigail and Samuel present wonderful role models of the combination of strength, kindness and devotion to what it really means to love, as well as to listening to intuition and to the voice of Spirit. In sharp contrast is Mitch's darkness, whose greed and narcissism cut him off from his heart and soul. His God is money and we experience the huge difference between love being the guiding light, or control and greed being the primary motivation. An excellent book to teach true values.
Review from Andover
"I used to think history was just a bunch of dates and names I couldn't even pronounce. I had no interest in any of it. MB Tosi's Indian Path Series captivated me and sparked an interest in my own American Indian heritage. The detail with which she presented the culture of the American Indian in each of those books kept me eager for more. Once again, Tosi has captivated me. Her newest book, "The Broken Violin," is set during Revolutionary War times. Now I am struck by the resilience, faith, and courage of my European ancestors. MB Tosi has made history come alive for me! I love how Tosi weaves historical facts together with the plight of "The Broken Violin's" protagonist, Abigail Bosworth. Bosworth is transplanted to a new country on the verge of war where she is left virtually all alone in a new town but rises to meet the many challenges she faces along the way. With the strength of her faith and a commitment to doing the right thing, Abigail Bosworth makes an amazing transformation from a meek, dependent, and lonely woman into a confident, resilient, and independent woman. The Broken Violin is a beautiful story with much detail about how the people lived in the1770s. It turns out I love history now. What a surprise!"