Reviews of The Crimson Path of Honor, Book Three, The Indian Path Series
Review from Jim Langford, Director Emeritus of University of Notre Dame Press
M.B. Tosi has done it again. This is the historical novel at its best--realistic filled with tough issues against a background of conflict and unrest.
Review from John G. Agno, Certified Executive & Business Coach, Signature, Inc.
The Crimson Path of Honor takes us back to the 1860s where a spoiled young woman raised in Boston discovers her fearless courage and life signature through learning the ways of a squaw while being known as Morning Star. A white woman assimilating within a Native American culture, while the destruction of the Indian way of life was happening across the continent, is a theme of The Indian Path Series and is of interest to many Americans. I especially appreciate these cultural-clashing stories that M. B. Tosi weaves.
Review from Margaret Paul, Ph.D., co-author of Do I Have To Give Up Me To Be Loved By You and Healing Your Aloneness and co-creator of Inner Bonding®.
The Crimson Path of Honor is a very compelling, satisfying and inspiring book. I couldn't put it down! It's one of those books that made me feel sad when I finished it - I didn't want to leave the wonderful characters.

Review from A. Alleman, author of The Darcy Farthing Series.
The author, M.B. Tosi, has done an admirable job of researching the history and social relationships of the plains Indians and white settlers in Kansas and Colorado in the mid 1800s.

Review from S. Griffen, Faith, Hope, Love, and Grace
M.B. Tosi is such a great storyteller, so descriptive in detail you can really imagine yourself in the book's setting. This author is a must read on my list. I hope to read the whole series!!!

Reviews of The Secret Path of Destiny, Book Two, The Indian Path Series
Review from Author J. Langford, Ph.D.
Just about anyone can write a book, but only a good writer can write a good book. M.B. Tosi is a very good writer, and her books are truly worth reading. She has done it again in The Secret Path of Destiny with a blend of history and fiction that will keep you turning the pages of this inspiring story.
Review from Author M. Paul, Ph.D.
M.B. Tosi weaves a fascinating story about how the power of love, faith, courage and trusting intuition guides and sustains during extremely challenging situations.
Review from Author J. G. Agno
We Americans mostly think of ourselves in singular racial terms. Yet, one in seven new marriages is between spouses of different races or ethnicities, according to data from 2008 and 2009 that was analyzed by the Pew Research Center. When I was in my mid-30s, my mother gave me a family heritage chart that goes back twelve generations to the marriage of a Frenchman and Native American woman. She told me then that I would think more about my "roots" as I aged.
Reading The Secret Path of Destiny by M.B. Tosi, which is the second of The Indian Path Series, gave me a better feel for my ancestors' lives in America. The book begins in the mid-1800s and follows a young American woman's life, including a beautiful relationship with a Native American of the Comanche Tribe, during the Indian Wars of the late 1800s. The book provides a wonderful story and is a good read for those of us who wish to know more about the lives of our ancestry.
Review from Author S. R. Cox
This book is a perfect blend of American History and Romantic Fiction. This beautiful story weaves fascinating Native American history with a romantic twist where the main character's journey is one of extreme courage, loyalty, love, and forgiveness of those who betrayed and left her physically crippled for life.
Isolde's sheer determination and joy plays on the hearts of everyone she meets, entirely changing their lives for the better. She sets an example for how we can relate to others with love and peace despite tragic circumstances, acts of apparent hatred, and expectations from others on how we "should" respond to given situations.
M.B. Tosi's geographic and personal descriptions allowed me to insert myself into the story where I experienced everything from laughter to tears. Grab a tissue or two before you start, and be prepared to not put The Secret Path of Destiny down until you finish.
Review from A. Accord-Wright
I was interested in this book because of the Fredericksburg / German / Native references. My husband's family still resides in that area, and were German Immigrants. My Mother in Law is a Native American that married a German. I was interested in learning the German/ Native combination. I was not disappointed!
However, at times, I did feel like I was reading two books side by side. The Historical Fiction part of the book is some of the best I've ever read. Informative, accurate, detailed - and completely spell binding. Then we would switch to the story based in the 1860's-80's, and I didn't feel like the same connection to historical truth. The vocabulary, the way they spoke to each other, some of the reactions of this young 16 year old girl, the detachment of the mother, left me scratching my head. However, that said, this was a book I just could not put down. I read it at stop lights, at the grocery store parking lot, at an event, and then all night long. It was a less than 24 hour read. Even though it has a romantic interest, they come together very quickly in the book - and story never really lets you know what the ending point will be - where will these characters go? You get to really be involved with all of the characters, rooting for the villains and the heroes. I can't wait to check out the first book in the series. I really enjoyed, especially the later part of the book - where she intertwined her faith, in God and Jesus, with the Great Spirit, and her desire that all men know forgiveness, grace and healing - and above all the Son of God. Well Done.
Review from S. Griffen
LOVED this book! Seriously I read it in 1 day! I couldn't put my tablet down. I stayed up way too late but it was worth it, it was that good! I loved Isolde and Tseena their journey's and life's ups and downs. I really wish and hope there will be more with these characters to come.
The Secret Path of Destiny is Book 2 in the Indian Path Series, but don't let that stop you from reading it. I haven't read book 1 (I hope to) and I was able to instantly fall into this book. I never felt lost or wondering what the author was talking about. M.B. Tosi is such a great storyteller, so descriptive and detail you can really imagine yourself in the book's setting. This author is a must read on my list, I hope to read the whole series!!! I'm hooked and I'm not a historical fiction reader ever really. The Indian Path Series has changed that, at least for this series of books. Guess my love of Native American Indian culture was what made me love The Secret Path of Destiny but really I think anyone will love what M.B. Tosi has created. So what are you waiting for? Check out our library or local bookstore to grab your copy of this and the first The Sacred Path of Tears.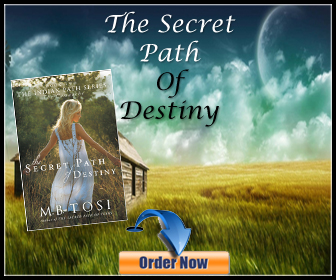 Review from J. Wedemeyer
I had never had the pleasure of reading a book written by M.B. Tosi until I read The Secret Path of Destiny. Believe me when I say it was a pleasure I plan on continuing in the very near future, I'm heading over to download The Sacred Path of Tears to my Kindle just as soon as I finish writing this blog post. I do love that you can now download most books that are on Amazon to your Kindle but back to The Secret Path of Destiny book.
This book was such a great read, I read it in the tub and stayed up super late (3am) trying to finish it and that's a good book in my opinion. M.B. Tosi has a way with words that just entrances you and makes you feel like you are right there in the story watching it unfold almost like a movie. Yes, she's that great of a writer! I plan on adding her to my list of favorite authors. The only caution I have for this book is to make sure you read The Sacred Path of Tears first. I didn't do that and didn't realize The Secret Path of Destiny was actually the 2nd book in The Indian Path Series.
Since I've lived in New Mexico, Colorado, Texas and now Oklahoma it was so easy for me to imagine all of the places that were talked about in this book and all of the rich Native America history. Tosi has really done her homework on the Native American history and paints a fascinating picture that leaves me wanting more!
Review from M. Smith
This is another great book by M.B. Tosi. Once I was finally able to start reading this book, I couldn't put it down! I was totally drawn into the story and into the lives of the characters. Once again, Ms. Tosi has combined historical facts with a fictional story. "The Secret Path of Destiny" is about the Comanche, and I enjoyed reading the history about the Comanche during this time period as much as I enjoyed the fictional story. Ms. Tosi is a wonderful story teller, and I look forward to reading more of her books.
Review from M. Barrett
M.B. Tosi is such a great writer, very descriptive and detailed you can really imagine yourself right there in the book. I am part Native American so that is one of the main reasons this book drew me to it. My love of my Indian culture was one of the strong points that made me choose to read The Secret Path of Destiny. The lives of the characters in the book are woven into the true events of the times and the book has action, romance, intrigue, and drama all rolled into one. I believe you will love this book and not be able to put it down once you pick it up.
Review from D. Leck
I truly loved M. B. Tosi's second book. Even more than her first. Secret Path of Destiny is an inspiring novel of how love and faith can overcome any obstacle. The characters were so believable and they pull you into the story before you realize it is happening. You cannot help but keep reading to see where they are taking you next. I cannot wait to meet more inspirational characters in future books!
Reviews of The Sacred Path of Tears, Book One, The Indian Path Series
Review from Author
A. Alleman
The author, M.B. Tosi, has done an admirable job of researching the history and social relationships of the plains Indians and white settlers in Kansas and Colorado in the mid 1800s. This romantic and spiritual adventure chronicles the life of Mokee, a peace-seeking Cheyenne girl, as she makes her way through difficult life transitions during turbulent times. The story was easy to read and difficult to put down. In addition to the satisfying story line and great character development, Tosi weaves in a good deal of history, making this not only a thoroughly enjoyable, but also an educational reading adventure.
Review from S. McQuaid
The Sacred Path of Tears is an amazing story about a young girl named Mokee who it torn from her family and life because of war between her tribe and the military. She finds refuge with a family in Kansas who takes her in and teaches her English and "civilized" customs. When she is truly comfortable in her new life, the old one sneaks up on her and she is forced to choose and fight for her decision. It is an amazing story about love, faith, and heritage. I really enjoyed this book. I love stories with a good Christian base and good books on American Indian history. This story is a wonderful blend between the two. This was a hard book to put down once I got into the story.
The author did a great book with character development and fully depicting the entire situation. It makes me realize how hard it was for 80% of the settlers and Indians that were thrown into war and didn't agree with the extremist on each end. The story of Mokee and her new family show how the two cultures could have peacefully lived together with compromise.
Review from M. Smith
This is a great book! It is a work of fiction, but there is also a lot of historical facts throughout the book. The fact that it is written like a journal allowed the author, M. B. Tosi, to include historical information in such a way that Mokee became part of true events. I think that added a depth to the story that would otherwise not have been possible. The Sacred Path of Tears is the first book in The Indian Path Series. Each book focuses on a different group of Indians. I am looking forward to reading the rest of the books in this series.
Review from C. McElmurray
This book is about the lives of fictional characters woven into actual events that occurred in the mid-1800's. The story takes place in Kansas. The main character, Mokee, is a young Cheyenne maiden and sees war all around her. She starts out the story with this thought: "I can't seem to understand why life is so violent when there is such beauty and peacefulness all around us in nature." The story itself centers around just a couple of years of her life. What I liked is that I didn't know how the story was going to end before it did. One of Mokee's final thoughts: "I want to be known not for the color of my skin, but for the inner workings of my soul and my lifelong desire for peace in our hearts." She found that peace through her love and devotion to Jesus.
Review from N. Volpicelli
Just finished your new book. I found it to be an easy to read, fast paced, and believable piece of historical fiction in the best tradition of Maurice Druon's "The Accursed Kings" (Les Rois Maudits). Beyond the story itself, your book may provide some insight into parallels which can be drawn between US / Native American relations after the US civil war and the current strained relations between the Western and Muslim worlds today. Well done - I hope you have more coming.
Review from M. Whalen
M.Tosi carefully researched the historical facts that blend well with this inspirational story. Mokee's life from adolescence to having a family of her own includes sadness and violence, but also happiness. That made it a book that was hard to put down. I am looking forward to her next book in The Indian Path Series.
Review from E. Cullman, Ph.D.
I love this book! I have always been curious about the history of our Native Americans. Within a spellbinding and heartfelt story, this book provides a well-researched history about this important era of America's development. Besides the "war" history, I loved what I learned about the practice of the spirituality of the Native Americans - especially that of the Cheyenne tribe. I came away with a deeper appreciation and respect for their practices and the pain and struggle they experienced during this time. I am really happy that this is the beginning of a series and look forward to reading all of them. I look forward to learning and understanding so much more about our Native Americans. I will never be the same when I am in their company.

Review from C. Scannell
The book is a comprehensive and compassionate portrayal of the western settler and Cheyenne Indians' embattled relationship that will inspire further consideration, much in the style of an Allan Eckert novel, with the spiritual nature of Native Americans presented in a respectful and honorable light. Needless to say, I much anticipate the next edition of this series. Congratulations to the author on a job well done.
Review from B. Diller
I had the pleasure of reading The Sacred Path of Tears on a train trip. While having the gift of uninterrupted reading time, we just happened to be going through Kansas which made the story all the more real to me. I fell in love with the characters. Each one brought a wonderful layer to the story. I was very sad when I got to the end of the story. I wanted to spend more time with them.
I loved this book! I do not have lots of time to read so when I do it must be easy to get into and hold my interest. This certainly did!! Wonderful characters..they were realistic, heartwarming and easy to like. I also loved the fact that I learned some American history throughout the book. What a crazy time in history (kind of like today). This book reminds us of the importance of being color blind in such a harsh world.
Review from
L. Heitz Ph.D.
In The Sacred Path of Tears the author delivers a compelling story of life in the mid-West in the mid 1800's where human interactions range from compassionate to brutally harsh. The complex weaving of Native American history into this story makes it appealing to readers well beyond the traditional romance novel audience. Well done!